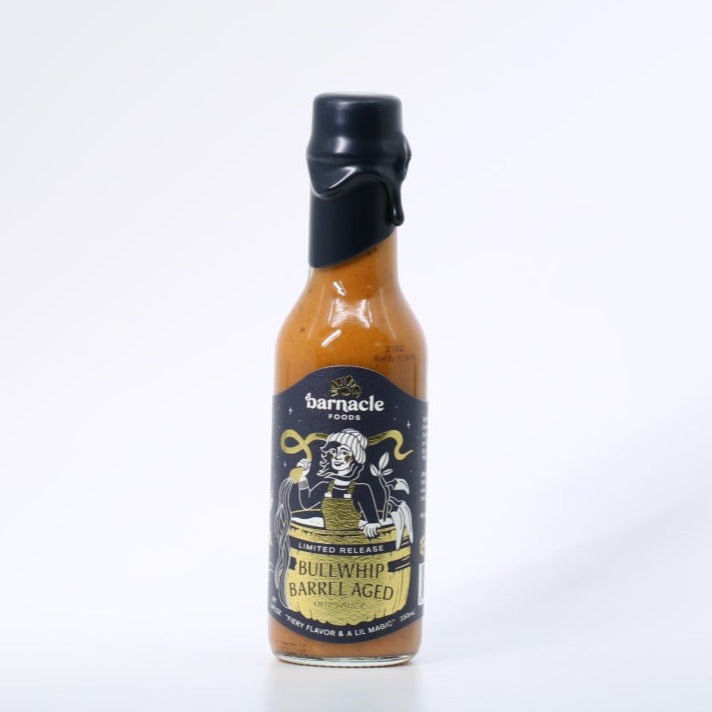 Barnacle Foods - Bullwhip Kelp Bourbon Barrel Aged Hot Sauce - 5oz
From the producer:
Batch #4. This Whiskey Barrel-Aged Bullwhip Hot Sauce was hidden away in a single malt whiskey barrel. The barrel's last life was aging Amalga Distillery's delicious single malt whiskey right here in Juneau, Alaska.
After more than 11 months of aging, this sauce has a melded flavor full of complexity with pleasant warmth that won't burn you. Flavor notes include roasted garlic, pear toffee, sun-dried tomato, and even a hint of dried seaweed.
Amalga Distillery makes single malt whiskey using 100% malted barley with chocolate and honey malts that give it a unique chocolatey taste. This whiskey is heavily charred and toasted in new American oak casks for its aging process. The barrels impart loads of toasty vanilla and oak flavor and beautiful color to their single malt whiskey.
It'll pair with all your classic hot sauce foods: cheesy quesadillas, breakfast skillets, burritos... You name it, this will make it spicy and mouthwatering.
"Bullwhip" is the local name for our favorite type of kelp — bull kelp. Abundant in Alaska, kelp packs unmatched savory flavor and amazing nutrition —vitamins, minerals, it has it all! 

This hot sauce is flavor first, heat second. A deep savory flavor from the kelp paired with heat from piri piri pepper will ignite your taste buds and leave your mouth warm.
Barnacle Foods - Bullwhip Kelp Bourbon Barrel Aged Hot Sauce - 5oz