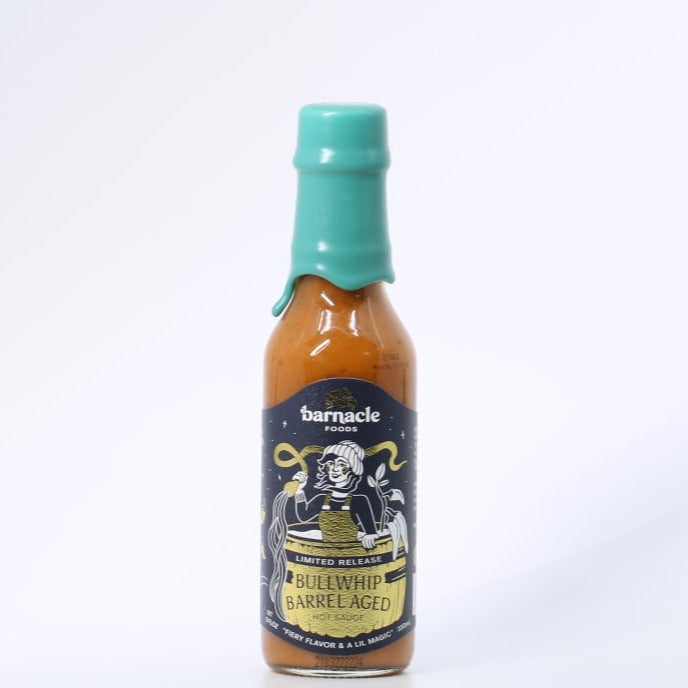 Barnacle Foods - Bullwhip Kelp Wine Barrel Aged Hot Sauce - 5oz
From the producer:
Batch #3. This Bourbon Barrel-Aged Bullwhip Hot Sauce was tucked away in a bourbon barrel previously used for Alaskan Brewing Co. Barley Wine right here in Juneau, Alaska.

After more than 11 months of aging, this sauce has a bright complex flavor with hints of caramel, oak, toasted malt, and even a little tartness.

It'll pair with all your classic hot sauce foods: cheesy quesadillas, breakfast skillets, burritos... You name it, this will make it spicy and mouthwatering.

"Bullwhip" is the local name for our favorite type of kelp — bull kelp. Abundant in Alaska, kelp packs unmatched savory flavor and amazing nutrition — vitamins, minerals, it has it all!

This hot sauce is flavor first, heat second. A deep savory flavor from the kelp paired with heat from piri piri pepper will ignite your taste buds and leave your mouth warm.

Barnacle Foods - Bullwhip Kelp Wine Barrel Aged Hot Sauce - 5oz