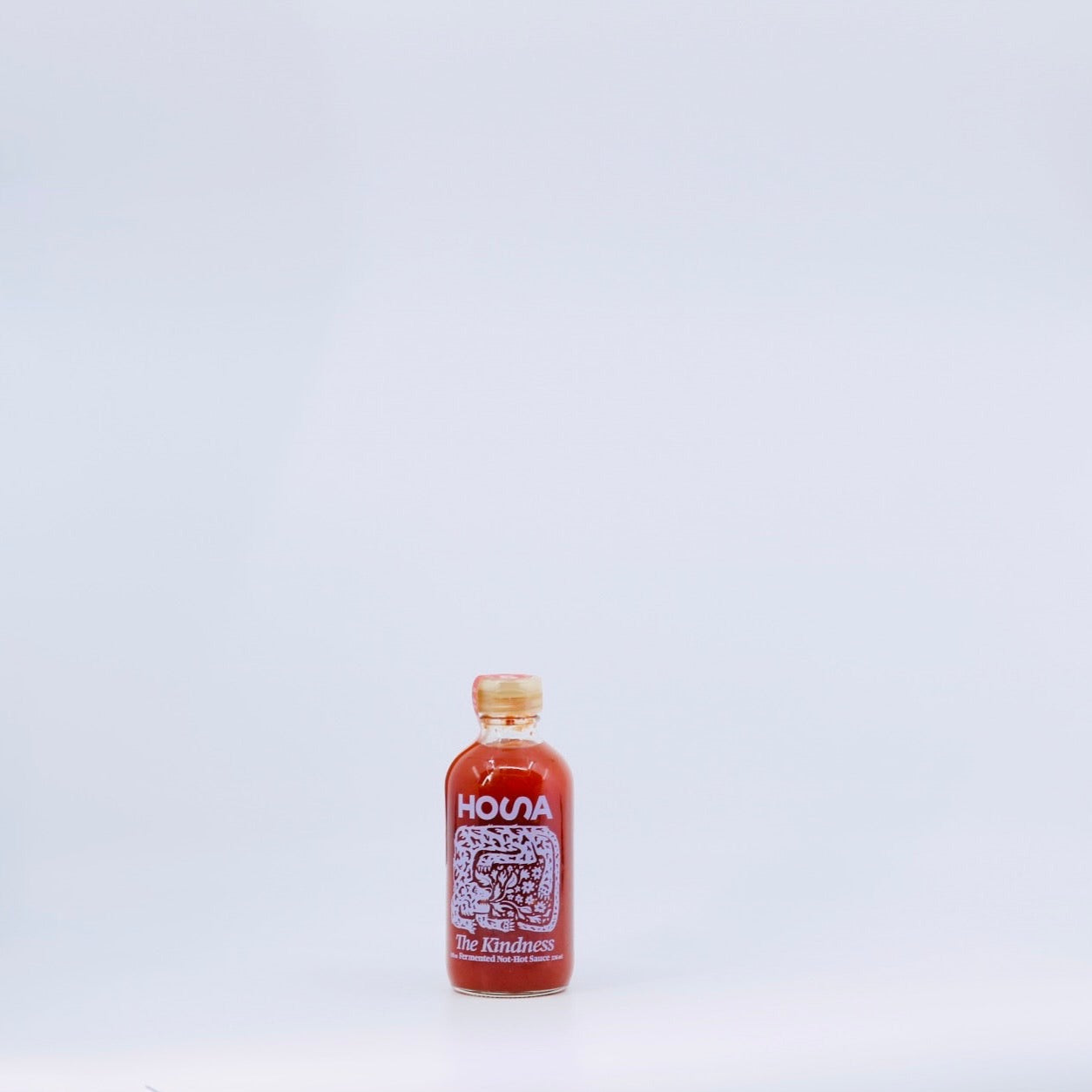 Hosa Hot Sauce - The Kindness - 8 fl oz
Sweet Carmen chiles from organic and local Wanderwood Farm are bright and fruity without any noticeable heat. We combined that with apple cider vinegar for a chile sauce with a balance of sweet, sour, and savory to bring fermented chile flavor to whatever you eat, even if you can't take the heat of most hot sauce. This is our gift to those of you who don't typically eat spicy. This is our Not Hot Hot Sauce.

More tropical chile sauce than 'hot' sauce, add Kindness to your seafood, vinaigrette, spring rolls, or anything where you crave a vinegary pop of sweet, heatless chiles.

Ingredient Focus: Sweet Carmen Organic Peppers
Carmen peppers are a type of corno di toro pepper, and are traditional in Italy. They're large, tapering chiles, looking very similar to a red-ripened Anaheim pepper , but looks are deceiving! These peppers are very mild, with 0 - 500 Scoville units. Most people won't notice any heat at all.

These are peppers that are used for frying and roasting in Italy. They're also eaten fresh and raw, used in salads, pickled for winter storage, and cooked down into sauces. They offer a deeper and more complex flavor than red bell peppers. Corno di toro peppers are even sweet when they're green, though they're normally allowed to fully ripen before harvest.

The Carmen pepper is a great way to bring the complexity of chile flavor to the plates of those who don't want chile heat.

HOSA Heat Scale: VERY MILD
Note: 8 oz screen printed bottles feature a removable flip-top cap; flip the cap open to use as a condiment, or unscrew it to pour it on as an ingredient!


Hosa Hot Sauce - The Kindness - 8 fl oz