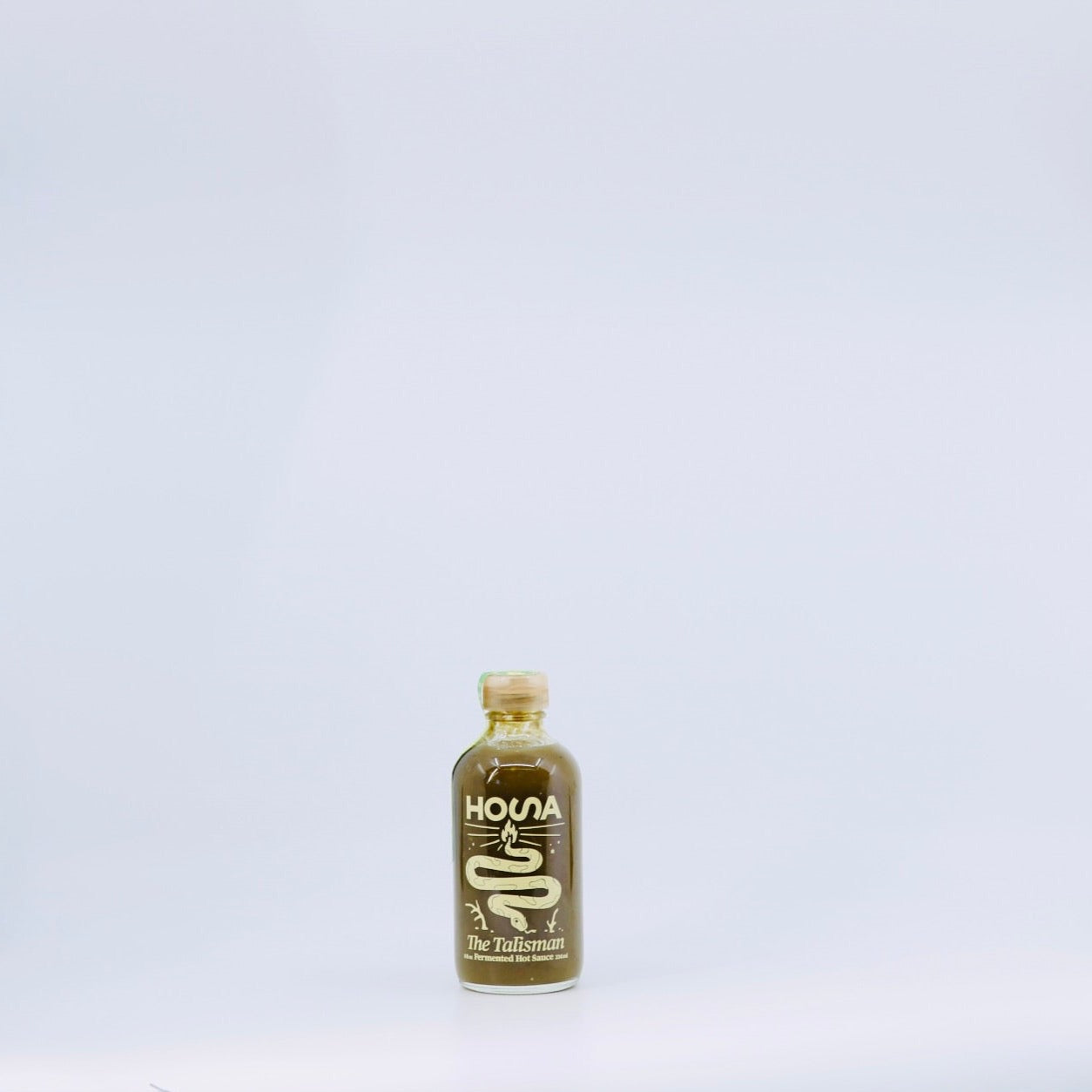 Hosa Hot Sauce - The Talisman - 8 fl oz
From the producer:
The Talisman features fresh green and yellow chiles fermented with locally sourced San Juan Sea Salt and organically grown, roasted jalapeños from Boldy Grown Farm in Skagit Valley. This medium-hot sauce features the green vegetal notes of jalapenos and a delightful, vinegary sourness. The Talisman is our tangiest sauce and lends itself well to fatty foods like meats, pizza, creamy cheeses, and eggs!

Ingredient Focus: Organic Serrano and Jalapeno Peppers
The jalapeno is one of the most popular chiles in the world. A relatively mild chile at 2,500 - 8,000 Scoville heat units, this chile is well-tolerated even by those without a hunger for heat! Because of this, some consider it a "gateway pepper."

The jalapeno originates in Mexico, where it's used in cooking, but also consumed as a snack food. Green jalapenos offer herbaceous and vegetal flavors, which makes them an excellent partner for light flavors, like vegetables, salsas, chicken and seafood.

Something you may not know about the humble jalapeno; they're an excellent source of vitamin C! Ounce for ounce, the jalapeno has more vitamin C than an orange.

The serrano chile is a bit hotter than its cousin the jalapeno, at 10,000 - 20,000 Scoville heat units. The flavor profile is similar, grassy and bright when green.

If allowed to ripen to red, both chiles become sweeter in the process. Roasting either of these peppers at any stage of ripeness tempers their vegetal nature, bringing out earthy and smoky notes. Both jalapenos and serranos tend to get hotter as they age, meaning that the fully ripe red peppers may be hotter than the green ones.

HOSA Heat Scale: Medium-Mild
Note: 8 oz screen printed bottles feature a removable flip-top cap; flip the cap open to use as a condiment, or unscrew it to pour it on as an ingredient!



Hosa Hot Sauce - The Talisman - 8 fl oz