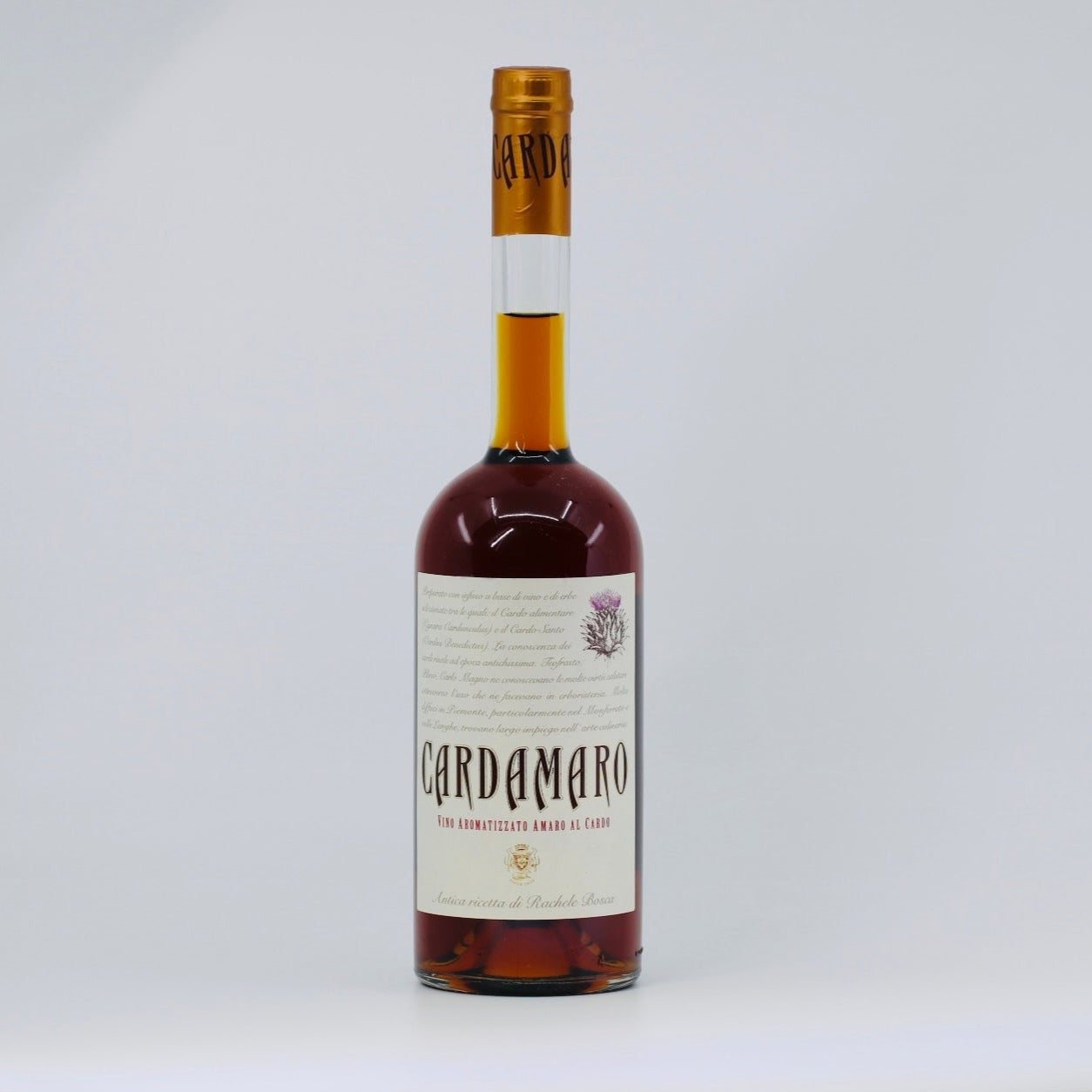 Cardamaro -Wine Based Amaro of Cardoon - 750 ml - 17 %
From the producer:
The one and only amaro based on wine and Nizza Monferrato Cardoon. Recreate from the ancient recipe of Bosca's herbalist wineblender this bitter tonic liquer has countless health-giving properties taken from the cardoon. With its pleasantly bitter taste it's perfect to side any occasion particularly after a good meal.
Cardamaro is prepared by wine base infusion of Nizza Monferrato cardoon (Cynara Cardunculus var altilis), blessed cardoon (Cardus Benedictus), milk cardoon (Sylbym Marianum) and other selected herbs such as calumba, juniper, Gentiana Lutea berries, cloves, liquorice root, cardamom, lemon peel and marjoram cultivated in Piedmont.
The color is reddish-yellow, almost amber, with bright tinges and dark brown hints with transparency.
On the nose it is strong and complex, thanks to the blend of the various extracts and the long ageing process. Spicy notes of Hunchback Cardoon, Gentiana, clary sage and liquorice are prominent; hints of dried fruit, grapes and ginger also emerge.
The taste is sweet, full and well-orchestrated flavour reflecting the extraordinary balance between the sweet note, the bitter quality of some of the officinal herbs and the pleasant tastiness of the wine.
The tasting experience is unique, with pleasantness unmatched by any other amaro, thanks to the moderate alcohol content. The long-lasting aftertaste retains the complexity and spicy notes of the herbs, with a slight hint of tobacco.
Cardamaro -Wine Based Amaro of Cardoon - 750 ml - 17 %